When I went to Lucky Star Art Camp in November 2014 I roomed with 4 fabulous ladies, one of which was Cal Patch, a teacher at camp. Cal teaches the basics/not so basics of sewing, pattern drafting, as well as crocheting. She revived in me my love of crochet which I had left behind somewhere along the way, I got side tracked into quilting, bicycling, online art classes and art journaling - which I love and still spend time on.
When I got back home from camp I decided I wanted to make some crochet caps to give away to family for Christmas. I found a book of hat patterns and yarn and hooks at Hobby Lobby and the first one I made was entirely too small -- I suppose the yarn I chose was not the right "weight". Anyhow, I perservered and tried a different pattern called the Turnbuckle hat, made it and it was too big but I was determined and undid it and started again with a smaller size hook, finally, success. So I made another, then another, and then a friend at work wanted one (I had taken my project to work to get a little done on my lunch hour), so I made another - by this time I had that pattern down! It is a nice hat that fits a little looser than most crochets caps with the idea that it would not give the wearer "hat hair."
Here are some pictures of the finished product - note I failed to take pictures of the first 3, this is a picture of the same hat and a scarf I made for my sister's birthday:
I then felt brave enough to try something more challenging, I went to Cal's etsy shop
etsy.com/shop/hodgepodgefarm
and found a beautiful shawl pattern called Borealis. I also purchased another pattern for a cloche. These pics are from her site: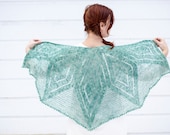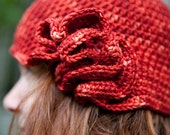 The shawl pattern is made with lace weight yarn which is just slightly thicker than string (think embroidery floss) and a small hook. I got about half way through when my instincts told me that it didn't look right so I sent a email and pic to Cal. She informed me that I did indeed have an error, on Row 1! I was disappointed but undid all my work and started again. I am happy to say that the second time I got it right and it is about half way done now and is turning out really pretty, here is a picture of the WIP:
I plan on giving this to my SIL since she is always doing nice things for me. Of course, since I love this pattern so much I bought yarn to make myself one, although not in the lace weight, so it will be a little bigger and heavier.
I also want to make myself one of those Turnbuckle hats so looks like I'll be crocheting for sometime to come and fitting in all my other beloved crafts as well. It is good to be busy crafting!